Functional characteristics :
Statement: Follow-up appearance will be different according to design upgrade requirements, without further notice.
轻拍感应,瞬间点亮:舒适灯光、只需轻轻触拍灯罩即可开启与切换,给每个夜晚温馨守护
Pat induction, instantaneous lighting: comfortable lighting, just touch the lampshade can be opened and switched to give every night warm guardianship
柔和:柔和不刺眼 促进萌发睡意
Soft: Soft and non-harsh promotes germinating sleepiness
明亮:舒适温暖 营造温馨氛围
Bright: Comfortable and warm to create a warm atmosphere
感应照明 自动检测 人体感应 起夜更安全
Automatic Detection of Human Body Induction Lighting at Night is Safer and Safer
人体移动即亮、 随意放置、 夜间自动开启
Human body movement is bright, random placement, automatic opening at night
120°探测范围、3米探测距离、30秒延时关灯
120 Degree Detection Range, 3-meter Detection Range, 30-second Delay Turn-off
时间投影近距投影,随时报时 40mm近焦投影
Time Projection Short-range Projection, 40 mm Short-focus Projection at any time
关闭灯光,投影时钟即现
Turn off the lights and the projection clock will appear.
隐藏式内投影,柔和红光(颜色可定制)数字、夜晚更清晰
Hidden internal projection, soft and red (color customizable) numbers, night clearer
24小时系统时间、时间、闹钟功能
24-hour system time, time, alarm clock function
环保硅胶触感柔软、任意揉捏、手感舒适
Environmentally friendly silica gel has soft touch, arbitrary kneading and comfortable handle
硅胶外罩小夜灯比一般灯具抗震压、防摔破
Silica Gel Outer Cover Night Lamp is more resistant to shock and break than ordinary lamps and lanterns.
双模设计更贴心:睡眠模式下30分钟后自动熄灭,而常亮模式下一直保持灯亮
Dual-mode design is more intimate: Sleep mode automatically extinguishes after 30 minutes, while constant mode keeps the light on.
适用于卧房睡眠、夜间阅读、客厅夜灯、情侣烛光晚餐、野外露营
Suitable for bedroom sleep, night reading, living room night lamp, couple candlelight dinner, field camping
USB safe low voltage 5V power supply (optional need to configure rechargeable battery style):
USB电源:手机充电头、充电宝、电脑、带USB插座
USB power supply: mobile phone charger, charger, computer, USB socket
Packing list:
LED小夜灯主机*1
LED Nightlight Host*1
USB电源线*1
USB power line*1
使用说明书*1
Instructions for Use*1
彩色包装盒*1
Color Packaging Box*1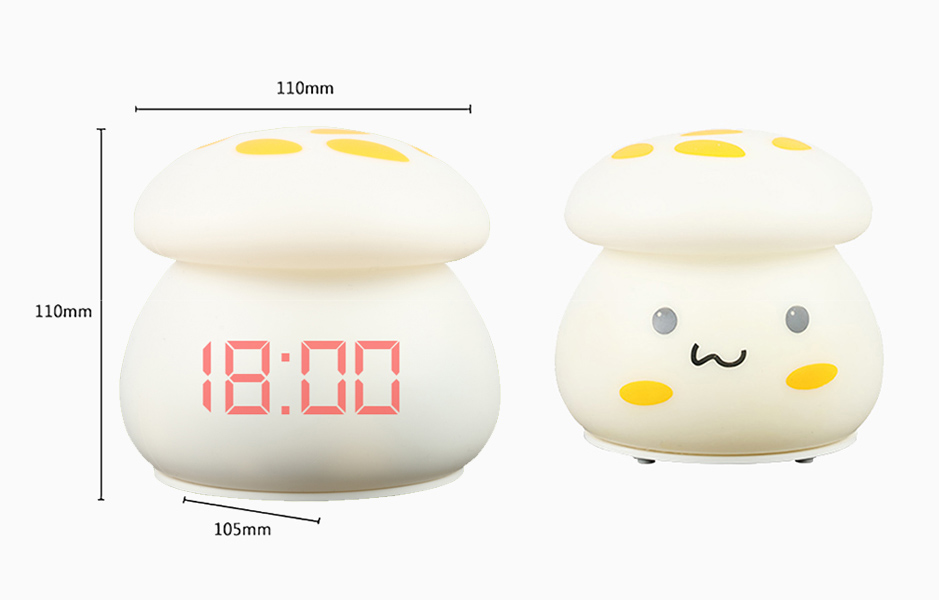 Parameters
【Name】Intelligent Micro-lighting LED Care Lamp
【Brand】CG
【Model】 CG - ET - 04
【Size 】 110 * 110 * 105 mm
【Input voltage:】 DC5V
【Power】 1 w
【weight】200g
【Total packing weight 】290g